<<< AAAarrrgh ! Human pop-ups !
Oooooh, shiny ! >>>
The Great Croatian adventure (Part I - Getting there)
8am, 24th September 2006
-
Humour, Travel
It's been two weeks now since the Croatian adventure so it's time to preserve for posterity the happenings of that fateful weekend.
It all started with a dismal English summer that just didn't meet our Australian expectations. It barely got above thirty degrees, there are no beaches in London, there was not a barbeque in sight nor smelling range and we don't even have a back yard. Apparently this was quite good for an English summer, in fact, some of my workmates were even complaining about the heat !
The decision was made to have a quick holiday somewhere a little further South before summer was finished. Various proposals were floated... and sank. The Cornwall trip got cancelled due some silly git evicting our Aussie friend from her house the week before we were due to go, resulting in her staying home and searching for a new house instead, so Jane and I set our sights on Italy.
After a little investigation, we found that flights to Croatia were far cheaper than Italy and their cultures and climates are surprisingly similar. You only need to look at the way they play soccer for some evidence of that! Jane purchased the "Rough Guide" to Croatia and we planned where we would go and what we would do.
We left straight from work via train to Luton, plane to Rijeka and bus to the centre of town where a coach was supposed to take us overnight to Split just in time for a ferry to Vis. The folly of not having a "Plan B" is, unfortunately, well known to me. The plane from Luton was delayed (They messed up the allowable flight times of some of the crew on a plane from Berlin so our plane and it's crew went there instead and we had to wait for another one. We found out later from the car-hire guy in Rijeka airport that the Luton flight is always late, usually by an hour or so.) with no explanation of what was going on. The boarding time up on the screens that were dotted around the airport came and went and the message continued to say "Wait in foyer". The message also urged us to buy more in the available shops because although we were only allowed one piece of hand luggage on board, shopping bags were not included in that tally.
The flight was uneventful but the descent was quite a ride. The turbulence that I guess was caused by the mountainous terrain that forms the coast of Croatia was severe enough that we all felt like we were on a roller-coaster. Stomachs dropping, small amounts of free-fall, being squashed down into your seat and the most concerning/exciting of all: an occasional, unnanounced side wind that would turn the aircaft thirty or forty degrees away from the direction of travel and into the wind. I've never been in a plane that was slipping sideways through the air before.
Arriving in Rijeka via the bus from the airport (Twenty Kunas! You want twenty Kunas! What's that in Pounds? Oh. Never mind, here you go.) at 1:30am we tried to make sense of the coach timetable which, once decyphered, proclaimed that the last coach left at 12:00am and the next coach would not be until 7:00am. A taxi ride to the train station (300 metres. It was closed.) and to the nearest decent hotel (400 metres back the way we came.) and we lay our weary heads down to rest.
Breakfast was put on by the hotel at around 6:30am and we checked out by around 7:00am. Of course, we missed the first bus but we thought the next one was at 8:00am. It was actually at 9:00am so we had some time to kill.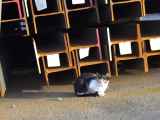 Jane went wandering with the camera while I befriended some of the people looking as tired as I felt who were also waiting at the coach stop. It seems they were on the same plane as us but they had decided to catch a taxi one city closer to their destination before finding somewhere to sleep but actually caught the taxi the wrong way and walked back. The four hours we spent sleeping they spent walking.
The bus trip took eight hours which put us in Split around 5:00pm which was plenty of time to catch the ferry at 8:00pm for Vis. Vis is a small, relaxed island about 40km off the coast of Croatia. Nothing is done in a hurry on Vis unless you want to pay someone a lot of money to speed things up. As far as our relaxing, sun-drenched holiday was concerned, it was perfect.
Coming home was another matter.
Avoid my language problems, get your Lonely Planet Language Guides
before you go !
Related posts:
The Great Croatian Adventure (Part II - Getting back)
The Great Croatian Adventure (Part III - The Good Bits)
Oooooh, shiny !
How may I help you today ?
Little Bobby Tables
Be the first to comment !